I'll go ahead and say it: I'm addicted to spray paint.
Ever since the weather warmed up and the flowers began to bloom, I've had spring fever, and I can't get enough of this color GREEN! It's called Eden, and I highly recommend it :) Last month I had quite the project going on with this paint...I created a focal wall in my craft room. More on that in a minute...
I also can't get enough of coral and aqua as accent colors right now, and I found these pictures at Marshall's that caught my eye.
I didn't buy them when I first saw them because I had nothing in mind to do with them. But I kept thinking about them all week. I
had
to have them. I went back thinking they'd be gone, but they were there! The small one was only $12.99, and the larger one $16.99. Why, oh why did I not buy them the first time? I also found those cute small picture frames to bring all my inspiration colors together.
Then I had this novel idea to spray paint every old frame in my house to this green. There's a big wall right in front of you as you walk into my craft studio, and I'd never been happy with how I decorated it, so I decided to make a frame collage. And to bring cohesion to all the frames, and get my love of Eden green out, I painted them all the same color green.
I'm happy to say that I FINALLY finished this project! I feel like it took forever...I had to prime the frames a few at a time, then paint, wait to dry. Then prime and paint a few more, run out of paint, go to Home Depot, finish painting. It became a drawn-out process and I'm so glad it's done!
I've had the mirror forever, but was bored of the silvery-gold frame. I painted it and thought it still needed a little something, so I made a bunch of fabric rosettes for the top and bottom corners. I used old t-shirts, cotton scraps, and a polyester tank top to make my flowers. I'll post my tutorial on how I made this frame soon.
This next frame had been sitting in our garage for a while because I didn't like it. A coat of green spray paint jazzed it up really fast! I had a white mat that fit it perfectly (from who knows where). I wanted to print some subway art to go inside, but the opening is 11x13, and I didn't want to pay to have something printed elsewhere. So I found this subway art
HERE
for free and printed it on 8.5x11" glossy photo paper. To fill the gap between the art and mat, I created a 2nd mat using the same coral polyester tank top I used for the rosettes!
And there you have it, my new craft room photo wall! It feels so springy and inspiring now. Isn't it amazing what a coat of paint can do!? The best part? I had everything on-hand, just had to buy the paint!
Have a wonderful day!
I'm linking up here: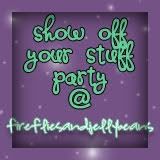 Blue Cricket Designs Show and Tell
Coastal Charm